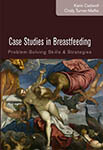 A new learn-at-home module, "Case Studies in Breastfeeding: Problem Solving Skills and Strategies," is now available from Health Education Associates. The module is based on the popular book by the same name authored by HCP faculty members Karin Cadwell and Cindy Turner-Maffei.
The online module goes hand in hand with the text, which combines logic, wisdom, and theory in order to convey a deeper understanding of how to respond in accordance with the highest needs of the breastfeeding dyad. The authors have developed a consultative framework, presenting illustrative case studies designed to increase the practitioners' knowledge about managing complex breastfeeding cases.
Individuals completing the module can receive the following credits: 6 Contact Hours for RNs, 6.0L CERPs for IBCLCs, 6 CPEs for RDs, and 6 contact hours for CLCs, Exam Only. To purchase the module, click here. The book, which is sold separately, can be purchased here.